stretch marks  appearance is very common especially in women. And some women seek to get rid of it. During pregnancy, or from  repeated  dieting  , or in adolescence,  thin white or red  scars  May APPEAR on the skin of women. How to prevent stretch marks and reduce them is what we will discover throughout this article.
Definition: What is a stretch mark?
Stretch marks are very common skin lesions that are similar to red or white scars. They are the result of tearing of the elastic fibers that support the skin, tears caused by several factors. They mainly occur during puberty and during pregnancy or because of certain hormones. (40% of men are concerned against 70% of women). 
Stretch marks: on which parts of the body do they appear?  
These skin lesions are usually located in areas that gain volume: under or on the breasts, on or between the thighs and on the hips. In men, they are found on the inside of the knees, at the roots of the arms, in those who do "body building" and in the lower part of the back. 
White stretch mark, red stretch mark: what's the difference?
The color of these tiny scars changes over time: it changes from a red or purplish color when they appear (immature stretch marks), to a pearly white color (mature stretch marks). Then they would become more and more discreet after a certain period of time.
Diagnostic
The diagnosis is made simply by observing the skin. When stretch marksare numerous or / and associated with other symptoms, it is absolutely necessary to visit a specialized doctor.
Stretch marks: the different causes
If you have noticed the appearance of stretch marks, you certainly want to know why they are happening. Here is a list to help you understand the causes: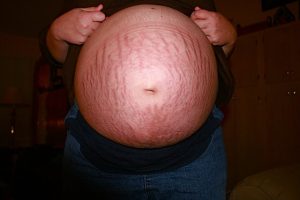 Too much cortisol production:

The appearance of stretch marks would be of hormonal origin.

More precisely, it would be linked to the

high level of cortisol;

Rapid weight gain or loss;

Puberty or morphology

: rapid body change;

Pregnancy:

hormonal factors and stretching of the skin;

Taking anabolic steroids

in athletes to increase muscle mass, especially bodybuilders;

Very thin skin.
Prevalence: Is the appearance of stretch marks common?
Stretch marks are very common:

almost 80% of women have stretch marks on certain areas of their body.

During the first pregnancy,

50 to 70% of women observe the appearance of stretch marks, often at the end of pregnancy.

At the time of puberty,

25% of girls against only 10% of boys notice the formation of stretch marks.
How to prevent stretch marks and reduce them?
There are several possibilities to fight stretch marks. And to help you choose the best solutions, we have prepared an organic collection of anti-stretch mark products for you :
1 / Sweet almond oil
Sweet almond oil is extremely rich in fatty acids, vitamins A, B, D and E. 
It allows to hydrate the skin in depth while offering a softness. Nourishing, it has the particularity of regulating sebum production and eliminating dead skin. The vitamin A in almond oil improves the elasticity of the skin while the other vitamins (B, D and E) accelerate its repair. So do not hesitate to coat yourself with this oil to prevent the appearance of stretch marks. 
Use:

To penetrate well into the skin, apply the oil in circular massages regularly up to 2 times a day to have a smooth and silky skin.

(Avoid applying this treatment before wearing pants or a light top. It may leave streaks)
2 / prickly pear oil
Prickly pear oil contains a high dose of vitamin E as well as sterols and essential fatty acids. This combination is the secret of its virtues. Thanks to its components, prickly oil deeply hydrates the skin and repairs damaged cells. 
It is therefore effective in reducing these streaks .
Use:

you will have to apply it directly on the stretch marks by means of regular gentle massages.

Repeat the application morning and evening.

The effect is not immediate, you have to wait weeks to see an evolution.
3 / Argan oil 
Argan oil is rich in vitamin E and unsaturated fatty acids. Therefore, it has the power to soften and hydrate the skin and repair stretch marks , especially those present on the thighs, hips and buttocks.
Argan oil therefore has preventive and curative properties. It accelerates the healing process of stretch marks already installed on the skin. In addition, it protects the epidermis against stretching during puberty and during pregnancy.
Use:

apply this solution daily, performing light circular massages.
In addition, it is recommended to mix argan oil with other oils especially jojoba oil which strengthens the elasticity of the skin and wheat germ oil which also has healing properties. A mixture that will give you an effective anti-stretch mark oil.
4 / Lavender essential oil
To combat these streaks, lavender essential oil is an excellent choice. 
Use:

Apply on

stretch marks

and make circular massages to promote blood circulation and remove scars, or adopt a scrub to activate the formation of new cells.

The streaks

will begin to gradually disappear. 
5 / Vitamin E 
You may have noticed that almost all of the products on our list are high in vitamin E. Yes! Because this vitamin has magical effects on the skin and especially healing. 
Vitamin E has a very effective effect in preventing and reducing stretch marks. By promoting the elasticity of the epidermis, it makes it possible to reduce the stretching of the skin which causes their appearance, while its regenerative action on the skin helps to attenuate them.
This vitamin is used in various cosmetic products, especially for skin care. It is super nourishing, hydrating. Indeed, it is particularly recommended for mature and dry skin. This vitamin has antioxidant effects, which give it anti-aging properties .
Usage

 : Apply

pure vitamin E oil, vitamin E cream or vitamin E body butter

daily to the stretched skin or

stretch marks

present.
Don't forget to tell us how you get to remove stretch marks and which solution you like the most. 
30 Superfoods You Must Know!