The use of essential oils is constantly increasing around the world. Experts, influencers and Hollywood stars agree on the benefits of essential oils on the body, health and well-being of people.
First of all, what is an essential oil?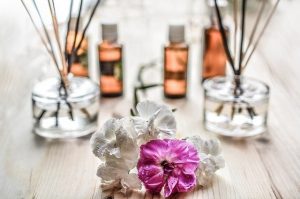 a precise and official definition of essential oil has been given by the AFNOR (Association Française de Normalization). It is an oil that must be "obtained from a raw material of plant origin, after separation of the aqueous phase by physical processes. Either by steam distillation, or by mechanical processes from the epicarp of citrus fruits, or by dry distillation".
There is a very large number of essential oils in the market. Thanks to the diversity of plant resources on our planet, we know more than 10,000 different aromatic components of essential oils. A diversity that can confuse the new customer who wants to build a basic personal or family pharmacy. Do not worry! We have prepared a top 10 list of essential oils for your home pharmacy.
     1. True lavender essential oil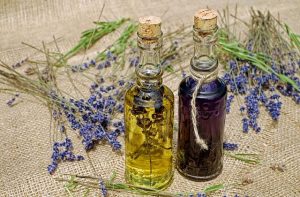 True lavender essential oil isn't on the top list for nothing. It is the oil of 1000 virtues. It is an effective painkiller, an antispasmodic, regenerative and healing for skin, a relaxant, and a natural anti-inflammatory. It is also excellent in case of insomnia, night agitation, and depression.
     2. Essential oil of Citronella of Java
It's summertime, the beautiful season for family and friends to gather outdoors, but mosquitoes are always trying to join in. Lemongrass essential oil is effective in keeping mosquitoes and ants away. In the afternoon, apply a few drops of Java citronella essential oil to exposed areas. To keep them away, you can use it as a spray on the skin.
     3. Peppermint essential oil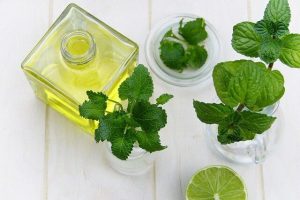 Due to its richness in menthol, Peppermint essential oil has many virtues starting with its highly cooling effect and remarkable analgesic properties, which gives it an advantage to take one of the top 3 spots on our list. Peppermint is an essential oil for shocks, blows or painful bites, headaches and migraines. It is also used to counteract nausea and fight bad breath.
     4. Rosehip essential oil
Are you were wondering about the secret to Victoria BEKHAM's glowing skin? The 47-year-old star, said she is a fan of the versatile rosehip oil which has amazing moisturizing properties . Musk rose essential oil comes from a particular species of rose tree growing in South America, Rosa rubiginosa. It is ideal for complexions, and also for cracked and dry skin on the body. Rosehip has been shown to speed up the skin's healing process, so it is good for reducing the appearance of scars and also a powerful anti-wrinkle treatment.
     5. Argan essential oil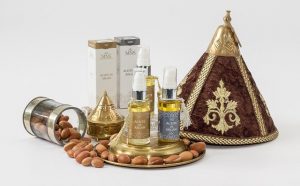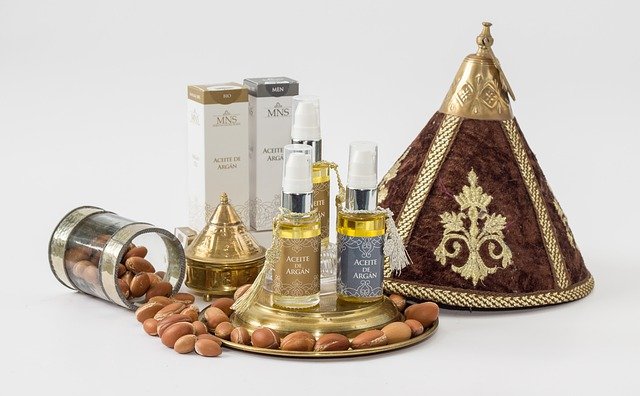 The word argan comes from a Moroccan village called Argana. The argan tree, a World Heritage Site, is an endemic tree of Morocco. The essential oil of argan also called the golden liquid, offers many virtues in cosmetics, food and pharmaceuticals. Argan oil has nourishing properties for the skin, hair and nails . Thus, it mixes perfectly with essential oils to obtain an anti-aging care or to preserve the flexibility and the hydration of the skin.
The argan oil can be taken orally or in a culinary preparation, including salads. (Warning: it is necessary to select an oil intended for the kitchen).
     6. Essential oil of patchouli
Patchouli , native to Indonesia, is well known for its therapeutic properties for lymphatic and venous circulation thanks to its richness in sesquiterpenes. You can use patchouli essential oil as a venous and lymphatic tonic and decongestant. An anti-inflammatory, skin regenerator and a digestive stimulant to facilitate the smooth running of the digestion process .
     7. Tea Tree essential oil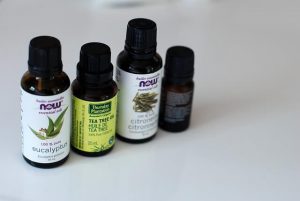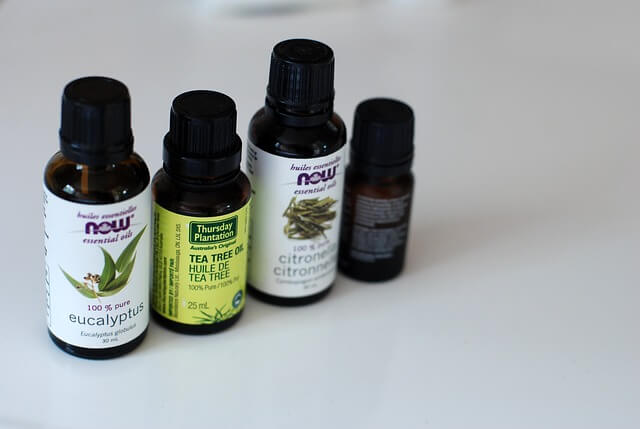 Thanks to its richness in active compounds present in the Melaleuca alternifolia plant, Tea Tree essential oil is effective for all skin problems, especially fungal infections. It can also be used to relieve angina, soothe sore throats and clean oily skin. A few drops of Tea Tree Oil is also an effective method of sanitizing and purifying the house.
     8. Ylang Ylang essential oil
With a powerful and calming scent, Ylang Ylang essential oil is mainly used to compose massage oils. Its ability to relieve muscular pains and states of inner agitation, it is one of the vital components of aromatherapy . It also plays a tonic activity to strengthen and beautify the hair.
     9. Ravintsara essential oil
Another star of the aromatherapy world is Ravintsara essential oil. Its antiviral actions and its stimulating effects on the immune system are indeed powerful and recognized by all experts of essential oils. It helps to clear the respiratory tract and to fight against the blows of bar. Ravintsara essential oil is an essential part of your family pharmacy.
     10. Chamomile essential oil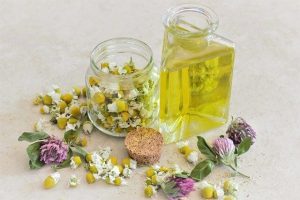 Chamomile essential oil is remarkable for its therapeutic and soothing properties.
If you are stressed or agitated after a long day at work, a few drops of chamomile essential oil will allow you to calm down, to take the necessary distance, even to let go. It is also useful in case of anxiety, agitation, nervousness or insomnia . It can be used by children as well as adults thanks to its richness in ester.
Where to buy essential oils?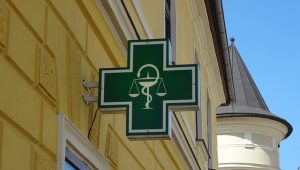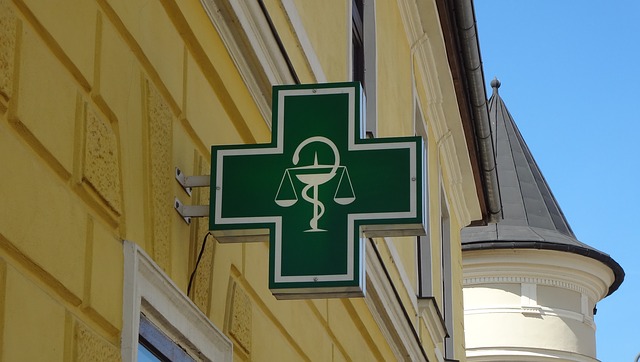 Now that you have a lot of information about the benefits of essential oils, you probably ask the question: Where can I buy good quality essential oils ?
Essential oils can be found in pharmacies, parapharmacies, organic stores, and on the Internet, provided that you are careful about the quality.
By buying an essential oil in a pharmacy or in an organic store , the traceability will be in accordance with the quality standards. In addition, essential oils found in pharmacies and organic stores are generally from organic farming, which guarantees a 100% natural composition.
Herboristerie Principale is a good choice that provides its customers with a variety of organic products, including essential oils.
Do you have other essential oils to add to this list?
Then we invite you to share them with us and tell us why you use them and since when.